Anne FAN: We love all that is Anne Robinson
Anne Josephine Robinson was born in the town of Crosby on Merseyside (then Lancashire), England on 26 September 1944.
This famous host of the hit BBC and NBC quiz show The Weakest Link started her career as a journalist for Rediffusion. She made her way up by working on the Daily Mail, Sunday Times and Daily Mirror.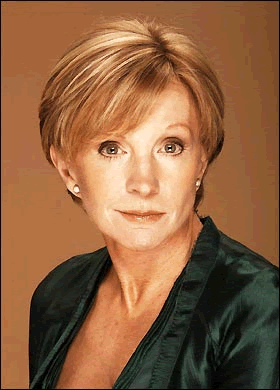 It was whilst she worked at Mirror that she was to make her mark, being Assistant Editor throughout the 1980s and early 1990s. She was the first woman to regularly edit a national presenting history newspaper.
Anne Robinson is one of the UK`s most distinguished broadcasters and journalists. Already well known in the UK for her television and radio shows, and her newspaper writing, she is now acclaimed on both sides of the Atlantic for her hit TV quiz show `The Weakest Link`. Anne has worked in broadcasting since 1986. Her credits include eight years as a presenter of BBC 1`s primetime consumer affairs show `Watchdog with Anne Robinson`, three as presenter of `Weekend Watchdog with Anne Robinson`, and eleven as presenter and writer of `Points of View`. For six years she presented `The Anne Robinson Show` on BBC Radio 2. For the past 20 years she has written a weekly newspaper column for a succession of British Newspapers: The Mirror, Today, The Sun, The Express and The Times. more on Anne the woman
TV Controversy
Anne caused a stir when she appeared on the comedy show Room 101 on 5 March 2001. Annes comments about Welsh people, such as "What are they for?", "I never did like them", and even suggesting that Prince Philip also disliked them, were perceived as derogatory. This caused an outcry and accusations of racism. After four senior officers from North Wales Police spent 96 hours investigating the issue, she apologised for the comments and agreed to do promotional work for the Wales Tourist Board to encourage people to visit the country.[16] In addition to this, BBC2 show Robot Wars also saw a protest against these remarks by Welsh robot Mega Morg, who placed a picture of Robinson on the front of the robot in the hope it would get destroyed.[citation needed]

In the same show, she put comedian Ben Elton into Room 101 in protest at his hosting the Royal Variety Performance. She argued that he should be sent to the room "for being a total and utter hypocrite and going back on everything he stood for in the '80s and '90s". In April 2002, Robinson was then placed into the Room 101 bin by Jessica Stevenson who said she couldn't stand Annes bare-faced cheek for insulting people on her show; she then went on to say that Robinson reminded her to a certain "German dictator who also hated his own people", as Liverpool was so close to Wales, the black leather outfit, her short hair, and moustache and then had another swipe at Robinson for using Botox; "she's not exactly an oil painting is she"; she looks rather tired.

The BBC received 26 complaints after Anne asked wine connoisseur Olly Smith, who was competing on the celebrity version of The Weakest Link, to feel her breasts, after he described her as a "full-bodied, expensive red". The programme was broadcast Saturday 5 April 2008 on BBC One.

Robinson caused controversy on The Weakest Link when she made Blue Peter legend John Noakes cry after asking "What happened to Shep?" Shep had been Noakes's pet both on and off Blue Peter.

Robinson is a vocal supporter of fox hunting and, prior to it being banned in 2004, was a key supporter of the pro-hunt cause. The Guardian claims she has also ridden with the White Horse Foxhunt.[19] In an interview with Radio Times in September 2000, Robinson was asked what her first act as world leader would be, replying "I'd lock up all the hunt saboteurs because they are destructive. They are campaigning about something of which they know nothing."
In Feb 2002, she hosted a spin-off version of The Weakest Link in Cirencester to raise funds for the local White Horse Hunt. The event was picketed by around 100 protesters from the League Against Cruel Sports, however around 70 animal rights activists returning from another demonstration joined the picket, culminating in a near riot. The event eventually went ahead after Robinson was escorted into the venue by local police.

Anne FAN - All that is lovable about Anne Robinson
She is married to journalist John Penrose, who also acts as her personal manager. Her daughter Emma, a graduate of New York University, is aged 32 and works as a freelance television and radio director, writer and presenter in London, New York and Washington.
She credits that most of her formative education was learned not from attending the convent boarding school or university, but from working on her mother's "marled" stall. She is one of the UK's most distinguished broadcasters and journalists and was made an Honorary Fellow of Liverpool's John Moores University in 1996.
Anne Robinson: Alcoholism nearly killed me
Weakest Link host says doctors gave her six weeks to live

Our ANNE: She is well-known (even in America) for her red hair, her dark Armani suits, her impatience with organizations that give customers a raw deal (she was the host of the prime time BBC 1 consumer affairs show Watchdog and, of course, her wink (which was developed when, in 1987, the director of right-to-reply show Points of View asked her not to wink - she subsequently winked at the end of every program.)